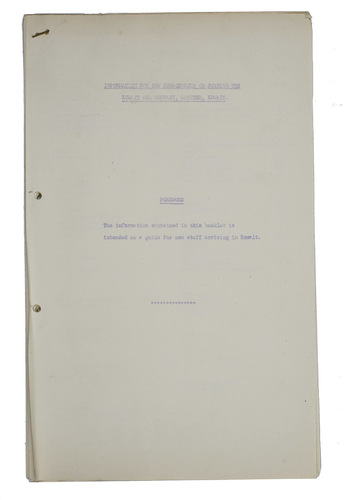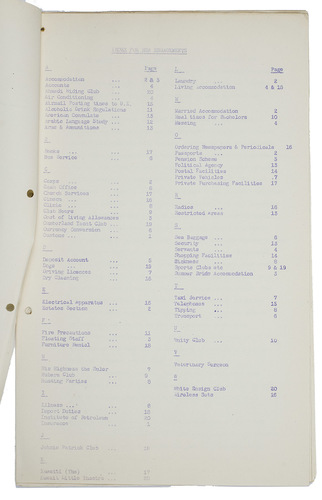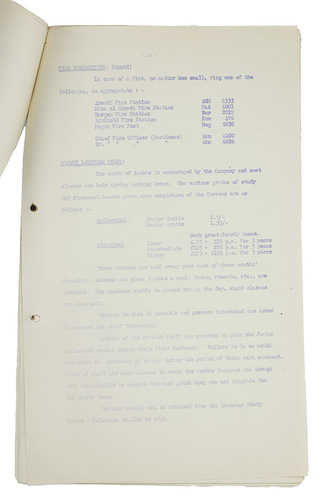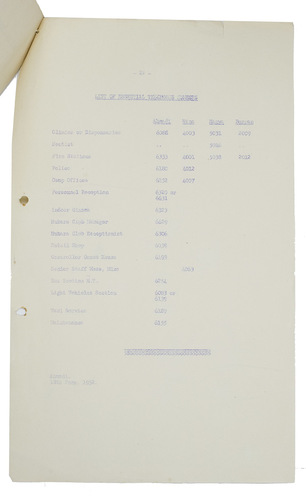 KUWAIT OIL COMPANY.
Information for new engagements on joining the Kuwait Oil Company, Limited, Kuwait.
Al Ahmadi, Kuwait Oil Company, 18 June 1952. Small folio (33 x 20.5 cm). Duplicated typescript, printed on the rectos only in purple ink, probably with a spirit duplicator. Loose sheets, stapled together at the left top corner with holes punched in the left margin. [2], 22 pp.
€ 2,500
Unrecorded information guide for (new) employees of the Kuwait Oil Company (KOC) who would be residing in Al Ahmadi, headquarters of the Company. The Kuwait Oil Company was founded in 1934, a joint venture between the British Anglo-Persian Oil Company and the American company Gulf Oil. In the same year, the sheik of Kuwait, Ahmad Al-Jaber Al-Sabah (reigned 1921-1950) granted them rights to the oil concession, which they were to retain until 1975. The first oil was discovered in 1938 in Burgan field, followed by discoveries in Magwa in 1951, Al Ahmadi in 1952, and many more regions. In 1946 the first commercial shipment took place. Because the initial development of the KOC coincided with the end of the British Raj in India, many British and Indian people in its service were transferred to Kuwait, in particular to Al Ahmadi. Al Ahmadi was set up to house these workers.
This unrecorded guide is quite rare, especially because it seems to be a quite cheaply produced and ephemeral document which was issued only in small numbers for in-house circulation.
At some places very slightly frayed and creases along the edges and corners, staple a little rusted, leaves slightly toned, some leaves a little cut short at the foot (with no loss except for some of the catch-words, but overall in remarkably good condition. A rare and unrecorded guide for employees of the Kuwait Oil Company in Ahmadi.
Related Subjects: