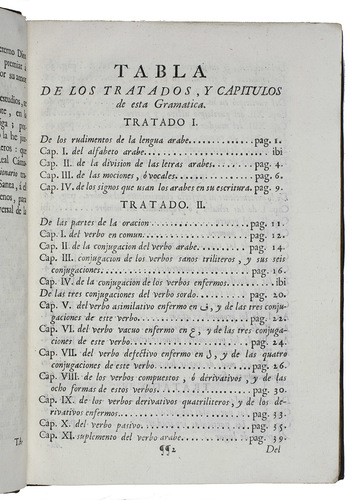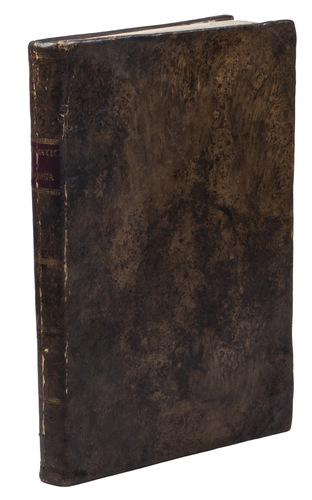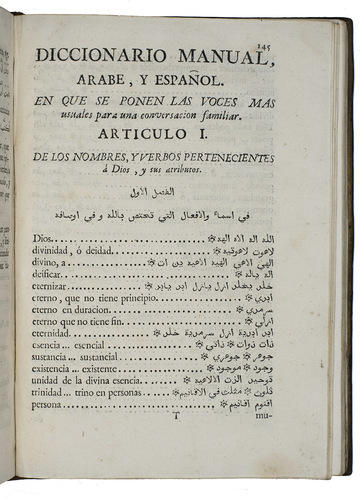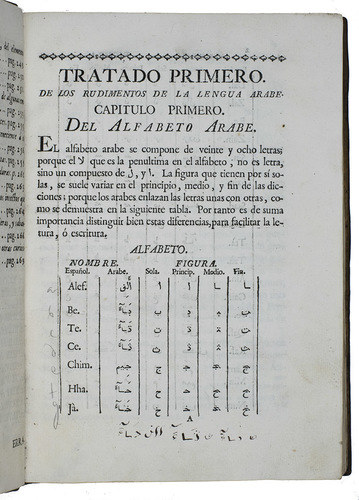 CAÑES, Francisco.
Gramatica Arabigo-Española, vulgar, y literal. Con un diccionario Arabigo-Español, en que se ponen las voces mas usuales para una conversacion familiar, con el texto de la doctrina Cristiana en el idioma Arabigo.
Madrid, Don Antonio Perez de Soto, 1775. 4to. With Perez de Soto's device on the title-page. Set in roman, italic and Arabic type. Contemporary mottled sheepskin. [1], [1 blank], [14], 272, [5], [2 blank], XVII pp.
€ 6,500
First edition of a study of Arabic grammar in Spanish, including an Arabic-Spanish dictionary and a translation of a general Christian doctrine text into Arabic. It was written by Francisco Cañes (1730-1795), who was an Arabist and a Franciscan missionary in the Near East. In the preface, he states his reasoning for producing and publishing the present work: "[I] therefore, present this Arabic grammar to the public, wishing to contribute on my part to the ease of learning a language that is not rude, barbarous, and useless, and that some out of ignorance despise; but elegant, erudite, and very useful, as learned men recognize: in view of how much is written in it, and of the numerous nations that speak it in Asia, Africa and part of Europe." (p. [4], translated from the Spanish). He produced the present grammar and his great Arabic - Latin - Spanish dictionary (1787) by Royal order of the court of Charles III of Spain, for the profit of the general public and especially for missionaries in the Holy Land and the Middle East as a whole.
With some annotations in ink and pencil in the text, binding slightly worn around the spine, first and last free endleaves professionally restored, occasional very light foxing. Overall in good condition. Palau 42854.
Related Subjects: