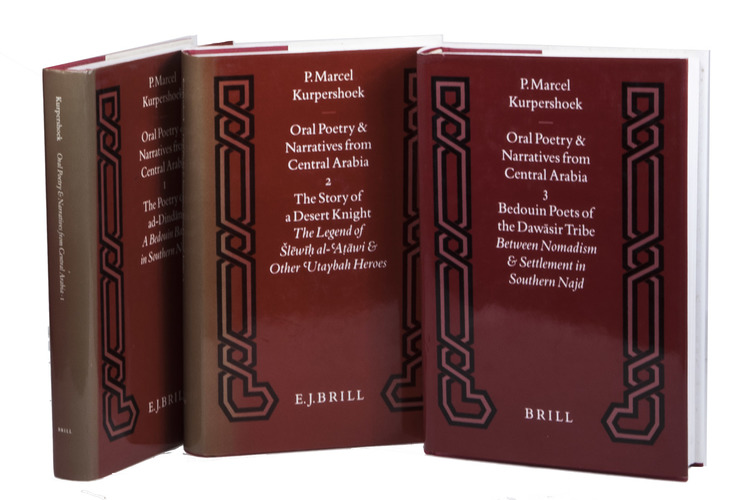 KURPERSHOEK, Paul Marcel.
Oral poetry & narratives from Central Arabia.
1. The poetry of ad-Dindân A Bedouin Bard in Southern Najd.
2. The story of a Desert Knight The legend of Sçwîh al-'Atâwi & Other 'Utaybah Heroes.
3. Bedouin poets of the Dawâsir Tribe Between Nomadism & Settlement in Southern Najd.
Leiden, New York, Köln, Brill, 1994-1999. 3 volumes. Large 8vo. With 2 portraits as frontispieces in vols. 1 and 2. 16 pages with illustrations and 2 maps at the end of vols. 2 and 3. Red cloth with title information in gold on front cover and spine of all 3 vols. All 3 vols. have a dust jacket. XVII, [5 368, [4]; XIV, [4], 512, [2]; XX, 506, [4] pp.
€ 850
Outstanding research on the oral traditions of the Bedouins in Central Arabia, divided into 3 volumes containing information on the poetry and narratives of certain Bedouin tribes and an analysis and translation of certain poems and stories. Kurpershoek has recorded, transcribed and translated all poetry and narratives he discusses in this work.
This trilogy has since its first publication (1994-1999) been expanded with two more volumes; volume 4, published in 2002, deals with Saudi tribal history and in volume 5 (2005) looks back on almost 20 years of research on and involvement with Arabian oral culture.
Paul Marcel Kurpershoek (1949) is a Dutch scholar, specialised in Arab studies, an author and diplomat. Kurpershoek studied Arabic language and culture at the Universities of Leiden and Cairo and since 1974 he has worked for the Dutch ministry of foreign affairs, the UN and NATO, as a professor of languages and cultures of the Islamic Middle East at the University of Leiden, and has done research on the Bedouins in Saudi Arabia. From 2002 until 2013 he was (alternately) the Dutch ambassador to Pakistan, Turkey, and Poland. Subsequently, from August 2013 until December 2014 he was an envoy to Syria, but he was not present in the country itself because of the ongoing Syrian Civil War.
Spines of the dust jackets of vols. 1 and 2 are slightly discoloured, otherwise in very good condition.
Related Subjects: