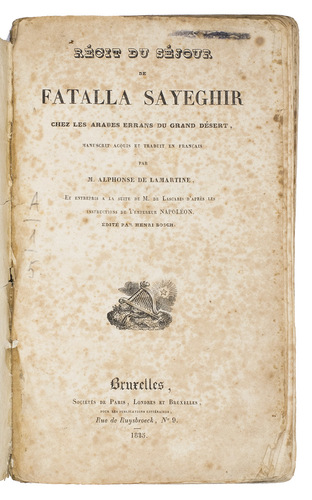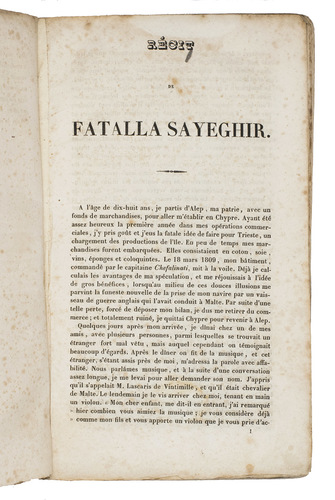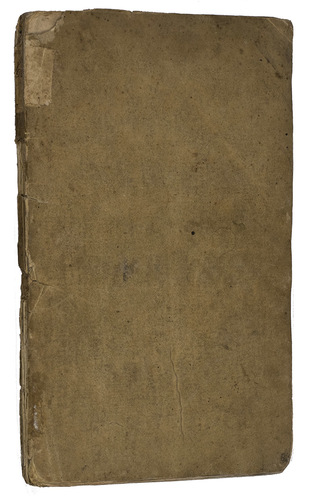 LAMARTINE, Alphonse de & Henri Bosch (editor).
Récit du séjour de Fatalla Sayeghir chez les Arabes Errans du grand désert, manuscrit acquis et traduit en Français.
Brussels, Sociétés de Paris, Londres et Bruxelles, 1835. 8vo. With a small vignette of a harp with a star in the background on the title page. Browned paper wrappers, with a white label on the spine with "68" in brown ink. [1], [1 blank], [2], VII, [1 blank], 109, [1 blank] pp.
€ 350
First edition of this travel account of Fatalla Sayeghir, who was a young Arab working as interpreter and assistant to a Napoleonic spy, M[onsieur?]. de Lascaris, who undertook an extended mission amongst the Arab peoples. De Lascaris was born in Piedmont, Italy, most likely in the last quarter of the 18th century and was a knight on Malta when Napoleon captured the island in 1798 and he subsequently followed Napoleon to Egypt. According to the translator and compiler of the work Alphonse de Lamartine, De Lascaris was bright and thus was able to capture Napoleon's attention. Together, they set their sights on conquering Asia, which would as an addition to Napoleon's Empire render more glory. De Lascaris was essentially appointed as Napoleon's spy, received secret instructions and the necessary funds in order to examine how they could go about conquering parts of Western Asia and even to trace out a road to India. After a few years of perfecting his Arabic and preparation in Aleppo, De Lascaris commenced his grand and perilous mission with the help of Fatalla Sayeghir, and under different disguises in different regions of the Middle East gathered information and acquired political relations for Napoleon. .
Luckily, De Lamartine was able to track down the interpreter Fatalla Sayeghir, who kept his own notes in Arabic, bought these off him and translated it with the help of M. Mazolier into French for the present publication. Alphonse de Lamartine (1790-1869) was a French author, poet and statesman, who was instrumental in the foundation of the French Second Republic (1848-1852) and the continuation of the "Tricolore" as the flag of France.
With some inscriptions on the inside of the front wrapper and the half title page, and with a crossed-out stamp or inscription at the head of the title page. Wrappers browned, spine damaged, foxed throughout. Gay 3694; Macro 2018; not in Aboussouan; Blackmer; cf. WorldCat only records this account as part of another publication by A. de Lamartine.
Related Subjects: